Best Budget Golf Balls 2020 : Buying Guide & Reviews
So you're in the market for some more lake food. I mean GOLF BALLS. Well…you've come to the right place. Here you will learn all about which golf balls to use, which golf balls are the best value for money, and which are best for which handicaps! Gone are the days when budget golf balls felt like rocks and looked just as bad. Nowadays you can get some reasonable quality for less than £20 a dozen.
In this article, we will cover the following golf balls:
Titleist Velocity
Titleist TourSoft
Srixon Soft Feel
Srixon QStar
Volvic Vivid
Calaway Warbird
Calaway SuperSoft
---
Best Golf Balls Under $40
1.

 Titleist Velocity
Best Features: Very durable in my experience lasted multiple rounds in my practice bag without the cover getting damaged. High ball flight to stop on the green. Large core and thin outer layer means soft feel, long drives and more spin. Lower spin off the driver face for straighter longer shots with less side spin allowing for straighter ball flights too. One of the best balls golf has in the market at it's price.
---
First up is the Titleist Velocity, the cheapest options in the Titleist Family at just under $30 however a brilliant golf ball which is low spinning for a distance golf ball.
Core: 2-piece Core
The Velocity golf ball is designed with extremely lower spin to maximize distance on every shot in the bag. They are perfect for anyone who wants a cheap budget premium manufacturer ball. Titleist is the leading golf ball manufacturer in the golfing world and their Velocity ball is a very popular option. A ball that won't break the bank and maximizes your ball speed with its LSX core. A golf balls' best feature is its feel of the face which this ball is very firm.
A solid golfball option for anyone looking a buying a cheap premium ball. Gone are the days of cheap golf balls being like rocks, these balls are forgiving, offer a lot of distance, and are more forgiving but the same price as other balls at this price range!
---
2.

 Titleist Tour Soft
Best Features: Softer than pretty much all of it's competition at this price level. a higher spin from a 2-piece product due to its ultra softcore.
---
Next up is the Titleist Tour Soft, another golf ball from premium ball manufacturer Titleist. These come in at just under $40. The most expensive ball shown in this list put arguably the best.
Core: This ball has a 2-piece core
The new Tour Soft from Titleist is a ball promises a soft feel, longer shots, and better spin. Now that is the promise of every ball, but this one does perform in this category of balls the best.
Similar to the velocity but the core in the Tour Soft is a lot 'softer' than the velocity. The result of this is a higher spinning golf ball compared to the other budget options in the Titleist family. A solid allrounder golf ball that outperforms its budget. The ball is as soft as they come at the price and it is noticeable. The ball is higher launching and softer around the greens.
A solid alternative to the Titleist velocity. Both are on the cheaper side of the Titleist family but both have their purposes and use. If you're a high handicapper looking to invest in a new ball this is definitely a good option.
SPECIFICATIONS
Compression: 65
---
3.

 Srixon Soft Feel
Best Features: Reduced compression. Soft feel around the greens. Passive soft feeling off the putter face. Low Compression. Great value golf ball.
---
Srixon's products are renowned to be longer off the tee with more moderate feel around the greens compared to its competitors. These golf balls retail at just under $20 for a dozen.
Core: This is another 2-Piece Core Ball
This ball has a soft feel and again has a softcore ball with a harder outer core-shell. Most options at this Price Range are 2-piece balls. They all react somewhat similar it ultimately comes down to person preference with regards to how the ball feels but this Srixon is a great option. Srixon has reduced the compression to 60. That's more moderate than the ultra-low trend at the moment and great for short hitters. The implication is that the distance from the tee with more moderate compression is more impressive than with the compressions below 50 at average swing speeds.
SPECIFICATIONS
Compression: 60
---
4.

 Srixon QStar
Best Features: Bestselling ball for a reason. it is super soft and offers a lot of control near to and around the greens. The ball is the most popular on the market not only because of its softness but also it's surprising distance. Ideal for slow swing speeds. Easy to travel with.
---
The Srixon QStar formally know as the AD333 is the U.K.'s best selling two-piece product for the past 11 years. These golf balls retail at just under $30 dollars which is slightly expensive for a distance golf ball.
Core: 2-Piece Soft Core
This golf ball features a low compression core with spin skin technology allowing for higher spinning golf balls. Furthermore, the QStar has an aerodynamic speed dimple pattern which allows for all-round balanced performance. This ball has a soft feel around the greens but also longer more accurate distances thanks to the firmer inner core. A golf ball suited for the average golfer who wants a bit more spin from a harder ball. These golf balls will suit the majority of weekend golfers who are looking to add more fun to their game with longer straighter drives even with a slow swing speed. Who doesn't want a long ball in the fairway?
SPECIFICATIONS
Cover Type: Ionomer Cove
---
5.

 Volvic Vivid
Best Features: Almost, Impossible to lose as they GLOW. Easy to identify in the sky thanks to their bright color, and finally. Low compression. They are surprisingly good off the face of the club!. The matte finish makes them relatively softer than most 2-Piece golf balls!.
---
Next up are a product which glow in the dark. If you are unsure of what I'm referring to just take one look at these bad boys. The Volvic Vivid ball, famously used by Bubba Watson, comes it at around $30.
Core: 2-Piece Soft Core
This ball is seen by many as a combination of the Titleist Velocity, a hard distance specific ball, and a Srixon Soft feel. This is because the ball is firm and long but surprises you when you chip by actually gripping on the club's grooves and on the greens. The ball is ideal for anyone who struggles to see their ball in the sky, yes seriously, and also ideal for those of you who like to stand out on the course. These are ideal for those of you who also blast your ball into lakes and trees, not because they're relatively cheap but more so because they glow and are easy to identify! The matte finish of the ball takes some getting used to but it gives it a distinct softer feel. That matte finish with the vivid colors this product come in, make them practically impossible to lose while watching them in the air.
SPECIFICATIONS
Compression: 75
---
6.

 Calaway Warbird
Best Features: Super Cheap for a premium company golf ball. All golf shots can be played with this ball which let's be honest, for lake food, has a lot of upsides!. Great value golf ball.
---
Moving on to the cheapest ball I'll show you today and that is Calaway and their Warbird! An older model with the latest version being a 2017 edition. These bad boys retail at under $20! Truly a budget ball.
Core: 2-Piece
As you would expect from a cheaper golf ball, the warbird from Calaway is a much firmer golf ball that suits a slower swing speed. The golf balls go like misles through the sky and you will definitely feel a difference off the tee. Noticeably from the noise alone. These golf balls are firmer but by no means bad. A perfect golf ball for those of you who require a bit more distance who's swing speed is slow but aren't bothered about having less spin or sacrificing some extra feel from shorter shots! The perfect ball for an every now and again golfer who is there to hit bombs and not be bothered about losing a couple of golf balls!
SPECIFICATIONS
Compression: 90.pricing
---
7.

 Calaway SuperSoft
Best Features: SuperSoft feel on and around the greens for a 2-piece core ball. Noticeably softer off the face. Suitable for slow swing speeds. Great value golf ball.
---
Another ball from Calaway, a brand famously used by Phil Mickelson on the PGA Tour, is the Calaway SuperSoft. This ball is a premium manufacturer ball which you'd think would consequently be represented in its price but you are wrong. This ball comes in at just over $20 for a dozen!!
Core: 2-Piece
The Callaway SuperSoft has an ultra-low 35 compression core. What does that mean? Well, it's believed to produce lower spin on the drives and a very soft feel on the shorter shots. SO in other words it basically does it all for a two-piece. From personal use i have found this ball to be surprisingly soft for a 2-Piece product. It makes you wonder what they put inside it to make it so soft and forgiving around the greens I personally did notice a drop in distance off the tee though especially my ball speed but for it's price and feel around the green it's a no brainer. The better you get at golf the more you appreciate how the ball feels off the face of the club. Especially around and on the greens. Which like the ball says is super soft.
SPECIFICATIONS
Compression: 38
---
Does my Handicap change the type of ball I should use?
Yes, absolutely. It sounds obvious but the better you get at golf the less likely you are to lose your golf balls. Now in addition to this, the better you get at golf, the more you expect from your golf balls. As you improve so do your feels and ball flights and spin numbers. As a consequence, you want something that gives you the most optimal output for your game. As let's be real this game is hard enough on its own before you even consider what type of ball you play with!
The reason each ball has a suggested handicap next to it as it's to try and illustrate the perceived benefit you'd recieve from using the golf balls!
---
Is there much of a difference between soft and hard-cored balls?
Aside from feel, distance, spin, durability, control, flight, and compression….no. The golf balls play such a pivotal role in the performance of a player. There's a reason 70% of golf pros use a Titleist Pro V1.
"The Titleist Pro V1 is the overwhelming choice among touring professionals around the world. At the start of the 2010 FedEx Cup Playoffs, the Pro V1 or Pro V1x won 89 events around the world, the next highest competitor had 19 wins."
It's no science. Well, actually it is. It's the science within the ball. The better you get the more you appreciate the better equipment.
---
What are the best value for money golf balls?
To conclude the golf balls which are the best value for money are broken down for each handicap:
Scratch or better: Titleist Pro V1/x or TaylorMade TP5/x = $$$$$
5 or below handicap golfers: Titleist Pro V1/x or TaylorMade TP5/x or Srixon Z-Star = $$$$$
10-5 handicap golfers: Titleist TourSoft, Calaway ChromeSoft, Taylormade Project (s) or Srixon AD333 = $$$
10-18 handicapped golfers: Taylormade RBZ or Titleist NXT, or Srixon UltraSoft = $$
18 – 28 handicapped golfers: Titleist Velocity, Calaway Warbird = $$
28 + handicapped golfers: Top Flights, Ultras, Pinnacle Golds = $
---
Are cheap golf balls any good?
To put it bluntly: No. But are people without a handicap good at golf? Also No. So ultimately it doesn't matter too much if the ball isn't great at the end of the day but it's all you need to go play and have fun with your buddies. The ball you use should simply depend on the purpose of the ball. If they are to be used at a driving range, or in a net then any cheap ball will do but as soon as you need a ball for a round of golf that is where you should look to consider upgrading as the difference they make in the short game is massive.
---
What is the best ball for the average golfer?
According to stats the average golfer has a handicap between 16-20. For the average golfer, with a handicap of somewhere between 16-20 any 3-piece golf ball mentioned will be the best option! They are cheap, durable, and low spin which means increased distance while not sacrificing too much feel.
A recommendation would be a Srixon AD333 a cheap yet good golf ball. Slightly more expensive then the other 2 piece balls out there but a solid allrounder which ticks many boxes.
---
What are the best golf balls for high handicappers?
Anyone off a high handicap should buy a 1 or 2-piece golf ball. This is simply from an economical standpoint. If you're a high handicapper with a big budger than a ProV1 should be your choice if we're going for what is the best golf ball on the market. But ultimately you'll be wasting your money if you buy anything more expensive as you'll lose half a dozen per 9 holes.
---
Buyers Guide to good bur cheap golf balls
First things first, in order to be able to differentiate between the golf balls in this article it's important to first understand how the different balls are made. This is so you have a better understanding as to why some balls cost more than others! A lot of the technology takes place within the ball which you cant see to the naked eye. If you're the type of person who turns a one ball golf hole into a 3 ball golf hole then this is the article for you.
What types of balls are there?
Kicking things off it's important to understand what types of golf balls are out there so you know which balls can do what for your game.
There are 5 types of golf ball:
1-Piece, 2-Piece, 3-piece, 4-piece, and 5-piece balls.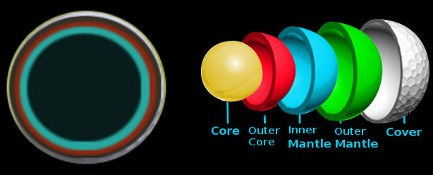 1-Piece balls:
These are the least expensive golf balls on the market. These balls are the simplest design and construction of a golf ball. Literally visualize a rubber ball with a hard plastic dimpled outer casing.
They are ideal for beginners without a handicap or for hitting into a net where your sole purpose is to work on your swing. This is because the ball offers little to no technology. They have less spin and they don't go as far and they don't feel soft off the clubface.
2-Piece balls:
Next up is the 2-Piece ball. Ideal for anyone off a handicap of 36 or more. This is because this ball is focused more on distance as opposed to feel. These 2-piece balls deliver maximum distance because they spin less than other golf ball types. But at the price of distance is a loss of feel and control. This is why its recommended for people off a handicap of 36 or more as they have no touch or feel anyway!
They consist of a high energy core with a solid plastic outer cover. Essentially they are made of two pieces of rubber an inner core and an outer cover. These balls are the most popular type of ball used in the world of golf! This is due to their durability and being more economical than the other golf ball types. Softer balls rip up easier and dont last as long and cost double the price!
3-Piece balls:
Three piece balls are designed and constructed to provide extra spin and control of the ball. They are recommended for anyone less than 36 but not recommended for anyone below a handicap of 14. These balls are built with a solid rubber core surrounded by a second layer which is often made of a liquid or very soft rubber. The final layer is made of a soft, thin urethane or Surlyn cover.
These balls don't go as far as the two-piece balls, however, they are much softer feel off the clubface and are better suited for shorter-range shots where you want better control of the ball. It is important to note however that because of the extra spin, they tend to exaggerate your slicing and hooking issues.
4-Piece balls:
These are more of a cross between a 2-piece and 3-piece anatomy of a golf ball in turns of performance metrics such as distance, control, and feel. The soft rubber core is optimal for max distance off the tee however the second layer of the core helps transfer energy which helps the third layer reduce spin and increase driving distance. These balls are recommended for anyone less than a handicap of 14. They are, however, slightly more expensive than most of the other balls on the market with less pieces. The final layer is a soft urethane cover that as a result, gives an extra feel.
These balls are designed for the serious golfer who has mastered his swing and ball flight. This is because you don't want to be losing these balls on every hole! It becomes expensive!
5-Piece balls:
Finally, five-piece balls are the best balls and what you see the tour players use on TV. These balls are recommended for the best players typically anyone off a handicap below 5 as they are very expensive often costing around $8 a ball. Not ideal for those of you who hit it into the woods or into the lakes during your round!
These balls are a low compression core for high launch and lower spin-off. These lower spin numbers are even more noticeable off the tee with the driver. A similar build to the four-piece but with an extra layer for more energy transfer form the club which in turn creates more spin.
This is important to know as it will make the rest of the article make more sense when you see the price variations between the balls!